News / 28/03/2023
How to change the code on TengTools tool storage
As avid tool users, we understand the importance of keeping your tools safe and secure, which is why we'd like to show you how to change the code on your TengTools tool storage. The combination locks are very user-friendly and can be found in cabinets, tool chests, and wall cabinets. With these clear and concise instructions, we hope you will feel confident in changing the lock on your tool kit.
As you may already know, the default combination for all TengTools combination locks is "010". It's important to change it to add an extra layer of security to your tools, keeping them safe from prying hands and potential intruders.
To begin, you'll need to unlock and open your tool storage. If you're using a type of storage with an easy-to-see mechanism, like a tool chest with a flip-up cover, it should be very straightforward to locate the small switch on the backside of the combination lock. The switch has an "N" and an "S" on either side. Move the switch over to the "S" position, and you're ready to set your new combination.
Once the new combination is set, flip the switch back to its original position "N". You can then lock the cabinet, roll the numbers, and the new combination is set. Select a number that's easy for you to remember, and avoid the most obvious combinations. The most important thing is to not use the default combination.
However, if your storage unit has a lock that is a bit more challenging to access like on tool cabinets, don't worry; we'll guide you through it. If there's not enough space for your hands, you can remove some of the tool trays to create the space you need. Simply move your tool sets out of the way, and you'll have plenty of space to work with. The rest of the procedure is the same as for all TengTools combination locks. Once you've pushed the switch up to "S", enter your new combination, and then pull the switch back down to "N" again. Your lock is now secure, and your combination has been changed. Again, choose a combination that you can easily remember but different from the default "010"-combination.
In conclusion, changing the combination on your TengTools cabinet is an easy and straightforward process that you can do yourself. And with the right combination, you can rest assured that your tools are secure and safe from unauthorized access. So go ahead and give it a try!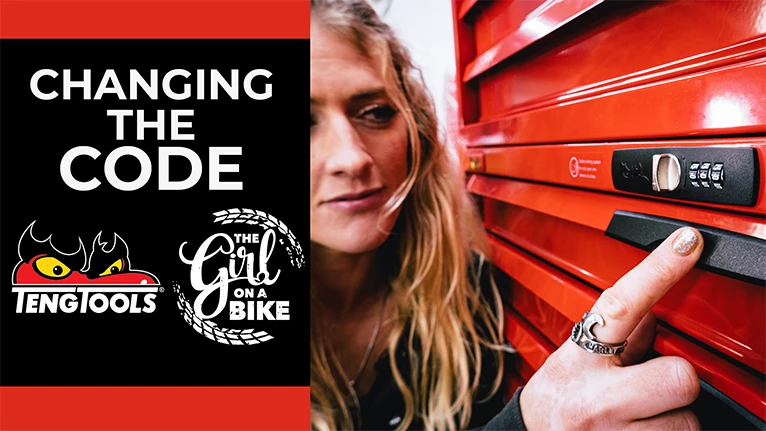 There's an instructional video with subtitles on our Youtube channel where Vanessa Ruck, aka "The Girl On A Bike", shows the procedure from start to finish for those of you who prefer that format.
Topic in this article
News