Product news / 01/07/2021
Powerful and durable impact socket sets
Teng Tools is now launching impact socket sets to easily bring with you when you are on the go!
Different sets for different users
Nine impact socket sets have been designed and developed to help facilitate various types of users such as within automotive and manufacturing. The sets contain 6-point (hexagonal) sockets with either 1/2" or 3/4" drive, there are both deep or standard lengths and they are available in metric and imperial sizes.
- "When developing these different impact socket sets, we kept different users in mind to make sure that the sets will match different types of jobs", says Håkan Carlsson, Business Development Manager at Teng Tools.
The impact sockets are specially developed to be used with power tools and they are therefore made of chrome molybdenum and have a black phosphate finish to easily identify them as impact tools.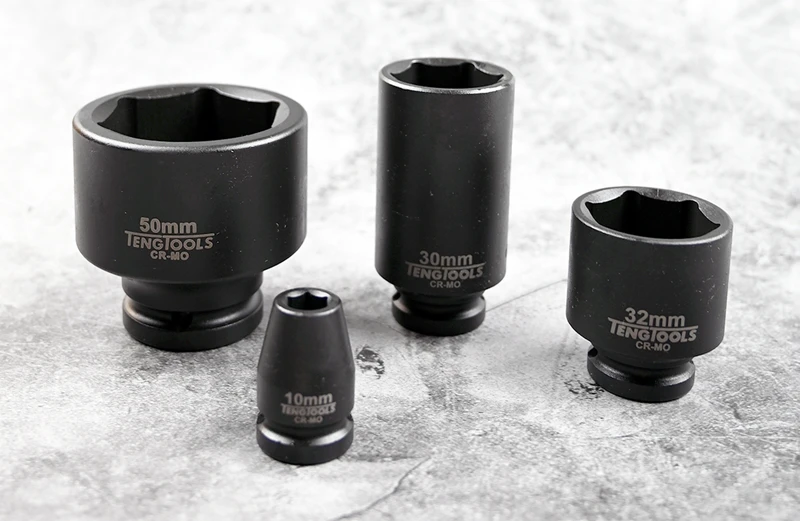 Robust case for moving jobs
All sets are supplied in a hard-wearing case, where the impact sockets are clearly laid out to easily identify which size belongs where and to identify if a socket is missing. To prevent the case from sliding and to protect it from scratching, it has also been provided with rubber feet.
- "These sets have been designed with the professional user, who is on the go, in mind. Therefore, these sets are equipped with a secure lock system to make sure that the top is closed, and the retractable handle is especially designed for comfort and durability", says Håkan.
In addition, to increase the case's lifetime, it has hard-wearing hinges with metal pin so that it can be used for a long time, and to protect the environment, the blow moulded case is fully recyclable.
---
For more information, please contact:
Victor Asting
Product Developer
Teng Tools AB
+46 (0) 72 553 52 84
victor.asting@tengtools.com
---
For marketing questions, please contact:
Stian Ström
Director Marketing & Business Development
Teng Tools AB
+46 (0)70 647 02 62
stian.strom@tengtools.com
Topic in this article
Product news