Story / 11/09/2023
How customized tool storage transforms offshore wind farm operations
In the ever-evolving world of renewable energy, efficiency and safety are paramount. Ensuring tools are readily available and easily accessible, especially in challenging environments such as offshore wind farms, can make a significant difference in operations. Here we will share the inspiring story of Vattenfall, a leading player in the offshore wind energy sector, and how they significantly improved their productivity and safety by implementing our customized hand tool storage and bespoke hand tool sets.
This success story demonstrates how a thoughtful, tailored solution can drastically enhance operational efficiency, reduce costs, and improve the wellbeing of employees. Whether you're part of the renewable energy industry or any sector requiring efficient tool management, customized hand tool storage solutions can revolutionize your operations.
Since 2008, Vattenfall has been making its mark in the UK, where it currently operates a network of 10 wind farms. Vattenfall is a juggernaut in the energy sector, employing a workforce of around 20,000 individuals across Europe.
The Ormonde Offshore Wind Farm is a testament to Vattenfall's relentless pursuit of pioneering technology and commitment to green energy. Situated off the coast of Barrow-In-Furness in North West England, in the heart of the Irish Sea, Ormonde has been efficiently producing clean energy since 2011. This 150MW wind farm features 30 towering Senvion 5.0M126 turbines, each 153 meters high, a record-breaking size for turbines at the time of their installation.
The construction of Ormonde began in May 2010, covering a substantial area of 8.7 square kilometers. Each year, it generates a whopping 500 gigawatt hours of green electricity, which is enough to power up to 100,000 homes. In 2014, the project surpassed its target by providing sufficient electricity to power approximately 126,000 UK homes.
The Challenge: Efficiency and Safety in Offshore Operations
In the demanding realm of offshore wind farm operations, Vattenfall faced a significant challenge tied to their hand tools. With multiple windmills spread across an extensive offshore territory, the maintenance and service of these remote structures requires a variety of specialized hand tools. However, the absence of a dedicated tool storage system for such conditions led to a host of complications.
A lack of proper tool organization can severely impact productivity. Technicians will find themselves spending valuable time searching for necessary tools rather than focusing on their primary maintenance tasks. Such inefficiencies could potentially be amplified by the harsh offshore conditions where rapid and effective maintenance is crucial.
Next is the problem of tool loss. In the expansive and challenging offshore environment, tools could easily be misplaced or lost entirely. This not only leads to more delays in maintenance tasks but also to added costs for replacing lost tools.
In addition to the issues of organization and loss, the absence of a dedicated and permanent tool storage system means that technicians must somehow transport heavy tool kits from one windmill to another. This is physically taxing, time-consuming, and a safety risk. The physical strain would surely lead to health issues over time, and the risk of accidents while transporting tools in difficult conditions is obviously a serious concern.
In summary, Vattenfall was in dire need of a solution that could effectively organize their tool management, boost efficiency, minimize the risk of tool loss, and enhance the safety and wellbeing of their technicians. This is where our customized hand tool storage and bespoke hand tool sets came into play, offering a tailored solution to address their specific needs.
Customized Hand Tool Storage and Bespoke Hand Tool Sets
Our approach began with a thorough analysis of Vattenfall's operations and examination of the tools necessary for their maintenance tasks. Our previous experience with and understanding of the unique challenges faced by similar companies allowed us to develop a bespoke hand tool storage and hand tool solution that is specifically tailored for their needs. Designing the kit took around 6 visits to their land site in Barrow in Furness in England, discussing their exact requirements with their Engineers, before eventually settling on the kit.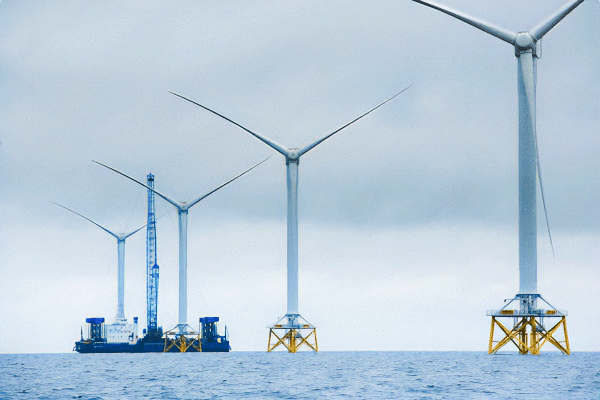 © Vattenfall. The Ormonde wind farm
TengTools hand tool storage units were carefully selected to house these tool sets. Each storage unit was expertly laid out to provide a specific place for every tool, ensuring easy accessibility and preventing tool loss. The kits also had to be adapted with feet fitted instead of wheels as the toolkits would start rolling across the floor with the movement caused by the windmill rotating! The TengTools storage units are durable and resistant to the harsh offshore conditions, thus guaranteeing their longevity.
The permanent installation of these tool storage units at each windmill eliminated the need for technicians to carry heavy tool kits from one windmill to another, thus reducing the physical strain and improving safety.
In essence, our solution transformed Vattenfall's tool management from a time-consuming and potentially hazardous task into a streamlined, efficient, and safer process. The customization of the hand tool storage were not just about storing tools; they were about improving productivity, reducing costs, and enhancing the safety and wellbeing of the technicians.
The Game-Changer: Standardization Across Windmills
One of the standout features of our solution was the standardization across all windmills. A completely bespoke, yet identical storage and tool assortment in every windmill was a game-changer for Vattenfall. This simple but powerful strategy of standardization reaped a wealth of benefits, touching upon various facets of operations.
Technicians find the same tools and storage layout in every windmill, reducing learning curves and simplifying training processes.
Standardization leads to consistent maintenance practices across all windmills.
Technicians can work more efficiently as they knew exactly where each tool was stored, accelerating task completion and boosting productivity.
Having identical tool sets in every windmill facilitates inventory management and tool maintenance, simplifying replacement and usage tracking.
The use of standardized tools enhances quality control and safety by reducing the risk of inappropriate tool use.
The long-term benefits of this standardized approach included significant cost savings due to increased efficiency, simplified inventory management, improved quality control and increased safety.
Through our journey with Vattenfall, we've once again seen the transformative power of a tailored and thoughtfully designed hand tool storage solution. We began with a significant challenge - the need for efficient, safe, and organized tool management in the demanding offshore environment. Our solution not only addressed these challenges but also brought about numerous additional benefits.
An investment in customized tool storage and management solutions can be a wise financial decision in the long run. But beyond the financial aspect, our solution has had a profound impact on the technicians' work experience, making their jobs easier, safer, and more efficient.
If you operate in an environment where efficient tool management is critical, we encourage you to consider how a customized hand tool storage solution could revolutionize your operations. Whether you're in the renewable energy sector or any other industry, a tailored solution like this can address your unique challenges and bring about significant improvements. There is huge potential still for this type kit to be used in any new windfarm developments worldwide. Reach out to us today to discuss your needs, and let's explore how we can create a bespoke solution for your business. Together, we can transform challenges into opportunities for growth and success.
Topic in this article
Story